Compiled by: Romrik Joshua Flores, Moroni Channel
Published: Tuesday, April 19 2016 5:17 p.m. GMT
Summary 

An overview of Elder Teal's Missionary Work in Greece Athens.

      While browsing Moroni Channel's Timeline a post suddenly caught my attention, it was an article about a missionary serving a mission in Greece and I found it interesting the fact that I haven't heard missionaries sharing the Gospel in Greece. I asked Brother John Teal (which is the Father of Elder Teal by the way) to provide me an overview of his son's Missionary work on Greece so that I can write an article about His son Elder Teal. And here's what he sent me.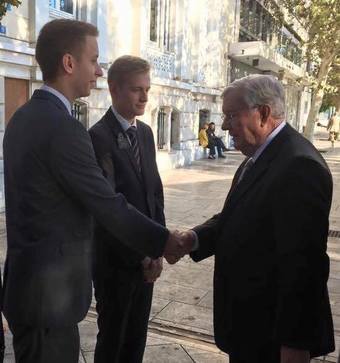 Courtesy of Brother John Teal father of Elder Teal; Welcoming Elder Ballard to the mission
July 2014 -2016      If you are a European Christian of any faith, you have been affected by the mission of the Apostle Paul. His ministry is well documented in the New Testament. Books such as Thessalonians and Corinthians are letters written to his converts in Ancient Greece. As Paul travelled west he brought Christianity into what we now call Europe. The Greece Athens Mission is continuing the work that Paul started. We sometimes think of LDS church history starting in 1830. But the Church of Jesus Christ is much older than that. It was alive and well when Paul preached on Mars Hill in the centre of Athens!
Covering the Greek speaking countries of Greece and Cyprus, the mission is spread over a large distance. But typically only has 30 – 40 missionaries. The church in these areas is a district with branches , no stakes or wards. The district is under the priesthood authority of the Mission President. The majority of the serving missionaries are European / British.
As a family when Elder Teal embarked on his mission, we decided to create a blog to record his experiences. Originally we thought it would only be of interest to family and friends. As time passed we realised that the church did not have much current content for the Greek area and we began to see more visitors, looking for information. With a growing readership our weekly posts began to include more links to church content and videos. We also now add in occasional Posts in Greek.
Elder Teals service began when he was 18 in July 2014. He left college with great grades which has allowed him to secure a deferred place at a university to study Aeronautical Engineering when he comes home. Part of the first group to be taught Greek in the Preston England MTC, he has made great friends that have been a strength through out his mission.
Each Pday Elder Teal sends home emails, pictures and copies of his last 7 days of journal entries. The journal idea was his, it allows us as parents to be a part of all that he does in his mission and also saves him writing as much in his emails ! From the things he sends home we make an "abridgement" to create our weekly blog posts. He trust us completely to decide what is appropriate for us to share. For us it is a privilege to read the thoughts he records in his journals. We have been touched and impressed that every day, the last line of his journal records something he has been thankful for that day.
About 12 months into his service, a routine eye test discovered a degenerative eye condition called keratoconus which if untreated can lead to complete loss of sight. It took a lot of faith as a family to overcome our fears and worries, but amazingly one of the worlds leading surgeons for this condition is based in Greece Athens. The surgeon had a clinic that is the only placed that performs a two part procedure that can correct the problem. Early this year Elder Teal had surgery on both eyes and then spent a week at the mission home to recover. Now 3 months on his eyes are fine.
All of these experiences have been recorded in our blog. They have created missionary opportunities for us at home in England and have generated referrals for him in Greece. He has had random people approach him in the street and ask if he is Elder Teal from the blog !
Elder Teal has been blessed to serve as a trainer, District Leader, Zone Leader and for the last 7 months an AP but most importantly he has loved serving the people of Greece. His greatest joy has come from teaching the Gospel of Faith and Repentance and seeing people accept and be baptised. With less than 100 days of his mission left we know he will continue to believe that every minute matters.
You can follow Elder Teal's Journey on this website his Family made
http://elder-teal.blogspot.co.uk/
Or simply Join his Facebook Group for updates about him.
https://www.facebook.com/groups/ElderTeal
The following two tabs change content below.
Latest posts by Compiled by: Romrik Joshua Flores, Moroni Channel (see all)