The head of the Inter-Religious Council of Ethiopia recently visited The Church of Jesus Christ of Latter-day Saints' headquarters in Salt Lake City, Utah, to learn more about the global faith and build bridges of friendship with some of its many interfaith partners.
"I'm very happy from several things I have seen. This will teach Ethiopia and the world," said Secretary General Tiguhan Kesis Tagay Tadele, shortly after taking a tour of the Bishops' Central Storehouse.
The Utah Bishops' Central Storehouse in Salt Lake City is where food and supplies are stored for shipping to central storehouses in five other regions of the United States and Canada, where the supplies are distributed to people in need.
In addition to learning about the Bishops' Central Storehouse, the Ethiopian religious leader learned how Latter-day Saints participate in volunteer service and provide monetary donations to help fund humanitarian projects around the world, including in Africa.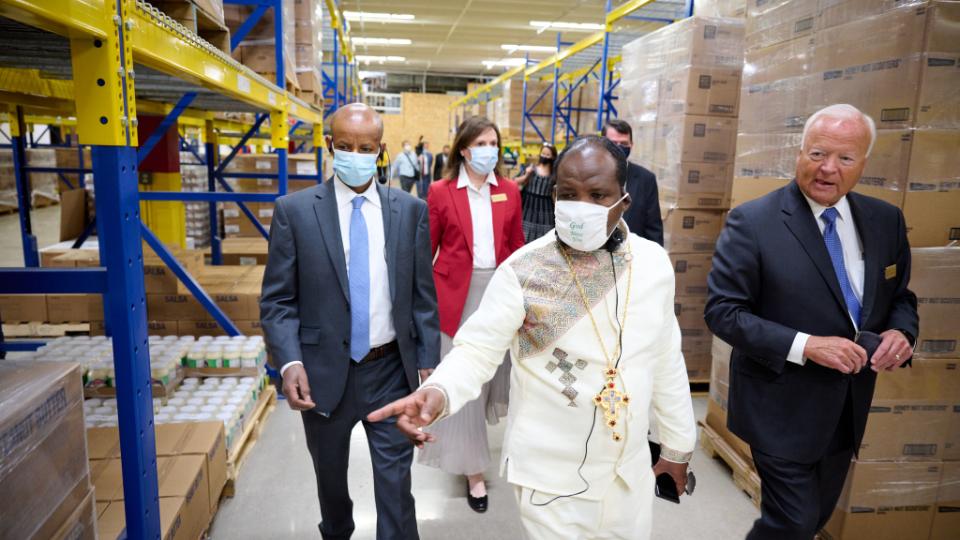 "I have seen the Church of Jesus Christ of Latter-day Saints helping around the world. When asked for bread, they fed the hungry. We have learned many things from the Church. I would like to encourage them to continue helping those in need," he said.
When Tadele visited Welfare Square, Church hosts explained how, on a monthly basis, members of the faith voluntarily refrain from eating two meals and in turn, give their bishop a monetary donation equaling the cost of the meals they would have eaten during that time.
Read more at Church Newsroom
The following two tabs change content below.
Latest posts by Church Newsroom (see all)