Latter-day Saints in communities across Texas are serving their neighbors after a massive winter storm with record snow, ice and cold hit the state last week, leaving millions of people without food, water and power. The record cold temperatures also led to broken water pipes and flooded homes and businesses.
The Church of Jesus Christ of Latter-day Saints has sent 36 semitruckloads of food, water, mattresses and other supplies from the Bishops' Central Storehouse in Salt Lake City to communities throughout primarily Texas and including Oklahoma. In all, 790,400 pounds of food and 17,280 cases of water were shipped to those in need.
In recent days, temperatures have warmed well above freezing, but local government leaders say it will take some time for residents to recover from the frigid Arctic air.
One week after the power was restored to most areas, many communities still don't have access to potable water and remain under boil orders from their local governments. Grocery stores have begun restocking shelves with perishable items.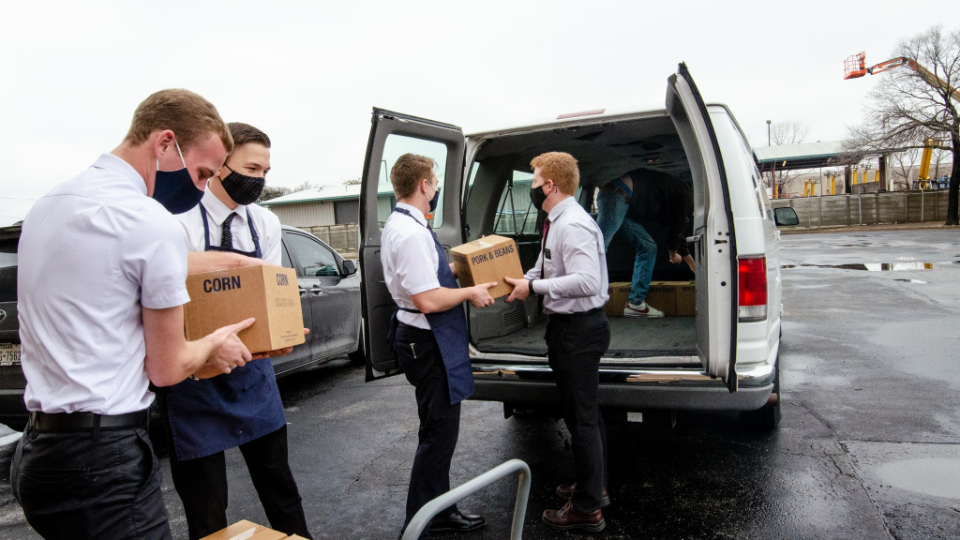 In San Angelo and Abilene, Texas, more than 41,000 pounds of food arrived on Tuesday, February 23. The Food Bank of West Central Texas in Abilene was the first recipient. Half of the food shipment was unloaded and processed by Latter-day Saint volunteers and missionaries.
The semitruck then delivered the second half of the food to the Concho Valley Regional Food Bank in San Angelo, where local Church volunteers and nonprofit community leaders stocked the shelves to alleviate hunger caused by last week's severe winter storms.
"In the thirteen-county service area, approximately 400,000 people were served by the food bank last year," said Lee Pipkin, executive director of the Concho Valley Regional Food Bank. This food donation will provide over 15,000 meals to local recipients.
On February 21, Latter-day Saints were busy unloading 20 pallets of bottled water in Church parking lots to help the Abilene and San Angelo communities. Working with the United Way of the Concho Valley in San Angelo, the Church provide water for many citizens who called in for help.
In Abilene, Latter-day Saint volunteers delivered water to citizens in need, including those in the Lyndale Abilene Memory Care center, who were without water because of a broken water main. Water was also donated to the local Big Country Chapter of the American Red Cross.
Read more at Church Newsroom
The following two tabs change content below.
Moroni Channel News is the news division of Moroni Channel that features breaking stories and information that matters to you most.
Latest posts by Moroni Channel News (see all)