You may not read comics or graphic novels (illustrated novels), but millions of people do. As demonstrated when Maus won the Pulitzer Prize in1992, this is a legitimate art form that can convey powerful emotions and concepts through a talented blend of imagery and word.
It was just a matter of time before The Book of Mormon was adapted into the format to help generate interest in the original record by youth and others. The Golden Plates is that adaptation and, while I was skeptical, I must admit it's fantastic. Created by Michael Allred, who is one of the best in the business and has worked on Spider-Man, Batman, Superman, The Fantastic Four, The X-Men, and more, this adaptation of holy scripture is bold and dynamic, yet reverent and respectful.
Allred's illustrations are rich in detail, emotion, and visually-arresting action. The structure is straightforward, recounting 1st Nephi through the book of Omni in the order in which the story plays out there. The artistry, however, is innovative, particularly in the visions of Nephi in which we see flashes of the life of Christ, the rest of The Book of Mormon, Columbus arriving in America, the colonization of the New World, the Revolutionary War and establishment of the United States, and the Latter-day restoration of the Gospel.
I recently interviewed Andrew Knaupp, who has spear-headed an effort to bring The Golden Plates (originally published in to a digital platform so kids, teens, and adults can enjoy the series on their phones, tablets, and other devices. He's also helped make them available as tangible copies in a pay-to-print format. (Learn more and buy here). He shed light on the project, the new "premium edition," and what's next for this creative team.
JONATHAN DECKER: Right out of the gate, why adapt The Book of Mormon into comic form? What's the mission?
ANDREW KNAUPP: All great books inspire those who read them. The Book of Mormon inspired Michael Allred to want to share his love and testimony of it through his artistic talents. He wanted to inspire people to read The Book of Mormon and consider the powerful evidences of its truthfulness. He hoped it would build faith in those who already believed in its message and create curiosity in those who might not have ever wanted to read it. His original promo art said: "Where the past reveals the future and proves that God exists." He included his own testimony and personal journey of finding truth in each volume. The mission is to inspire those who read it, especially younger readers, to become excited about The Book of Mormon and realize what a marvelous evidence it is of the reality of God and the divine mission of the Prophet Joseph Smith.
JD: Where did this idea come from? How did it call come together?
AK: The idea came from Michael Allred who had a personal spiritual experience that inspired him to quit his job as a full-time artist for DC comics and devote nearly a year to creating the books.  It all came together because he was willing to follow his impression, take a huge risk, and seek to use his talents to build the Kingdom of God in the way he felt he was being asked to. His wife was the colorist, he used his friends in the industry to help with the rest, and used his own money to print the first edition. That was back in 2004-2005.
Fast-forward to 2017. I had been a fan of The Golden Plates when they were first released and was super excited to see someone finally doing an illustrated version of the Book of Mormon with class, professionalism, and quality. I had worked as a designer and editor on another black and white illustrated story related to The Book of Mormon called The Book of Mormon on Trial back in 2003. I had felt a connection to The Golden Plates project, not just as a fan, but because Michael mentioned The Book of Mormon on Trial in his introduction included in the books.
I noticed when looking online that there had been no additional printings since the original printing and that anyone wanting a copy would have to pay some pretty steep prices to get a now-rare copy. I also wondered why it had never been converted to a digital format for phones and tablets. I wondered if Michael would be open to letting me put them out there digitally to help them find new life in the digital world. I reached out via a Facebook message and to my surprise I got an interested response. We started talking about the project and we finalized the decision to move forward in February of 2017.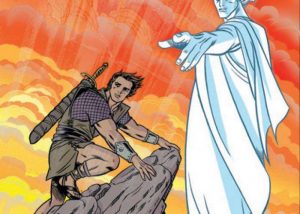 JD: What has been the response so far? How has this project affected people's lives?
AK: The original response back in 2005 was good. Initial sales and response were good, mostly from the LDS community seeing it in Deseret Book and other LDS bookstores. The non-LDS comic book audience, although curious, were not the major buyers of the book, and so the major sales needed to be at the LDS bookstores. The problems came with reordering and restocking. When the books sold out of the stores, there were no reorders. Unless a customer specifically asked for a book and pays for it as a special order, the bookstores don't bother re-ordering. In 2004-2005 the internet was not nearly as big as it is now and most people weren't buying their books online and definitely not reading books or comics on smart phones or tablets. When the first three volumes of The Golden Plates disappeared off the shelves, they largely disappeared from the minds of LDS buyers.
Since the Premier Edition came out in November the response from those who have read it has been great. I've been told by parents how it has really helped younger kids to get interested in the Book of Mormon and that they have gone back to read the full scripture version with new enthusiasm and appreciation for it. [Jonathan's note: that has definitely been my experience upon sharing The Golden Plates comics with my kids]
JD: What have been the struggles and the limitations for the project?
AK: The biggest struggle has been getting the word out. Since the project has been done with no additional marketing or promotion budget, all publicity has had to be organic. The other struggle is that this new print edition is only possible because of Amazon's print on demand service, which allowed us to offer print versions without having to print large numbers of copies and then ship and distribute them to stores. This also means that there aren't copies in the major LDS bookstores for people to browse on the shelves. Since this is where most LDS members look for and buy LDS books, this limits our exposure. We still have the same problems from 2005 with the main LDS Bookstores not being interested in books they didn't produce, so the odds of us distributing the books through them is still low. Not saying it couldn't happen, but it would require them placing a pretty big order for it to be financially feasible.
JD: What would you say to someone who argues that "comic books are for children" and that "The Book of Mormon is too sacred to be adapted into this form"?
AK: To those who people I would say look around at what kids are reading. They read comics, graphic novels, and illustrated stories all the time. The Friend magazine is basically a big comic book and it's how the church chooses to reach the children. A comic book is basically just another form of an illustrated book, it's just done with panels and word bubbles. Young people and children respond to the medium of comics with enthusiasm. Why not let that enthusiasm be directed towards the scriptures? As long as the adaptation is respectful, and doesn't teach false doctrine, I think it's a great way to reach young people. [Jonathan's note: It's also a great way to reach adults. I loved reading them as much as my children did.
JD: What has been most rewarding for you about this project?
AK: I would say hearing the enthusiastic responses to the books. When I see the books working as intended, inspiring the youth, helping them understand and be excited to read The Book of Mormon. I've seen the effect on my own three sons and that is very rewarding.
JD: What can you tell us about the premium edition? How does it compare with previous editions?
AK: The Premium Edition is the second edition. It has been split into six 34 page books instead of three 64 page books. All the text has been rewritten from the original edition, which used the scriptures word for word. I realized that the full scriptural text became difficult to read in the comic format and that younger kids really stumbled on words like "gentile" and "abominable" and that there needed to be a simplification. I believed we could be faithful to the scriptures while also simplifying and editing the amount of text per page. This freed up many of the panels that had a lot of text covering the artwork. The coloring has also been changed slightly to make them brighter and more colorful. The original coloring was more muted and had more of a historical feel. This edition is also available digitally for viewing on ipads, kindles, phones, etc. [Jonathan's note: great care was obviously taken with the new wording, because it is faithful to the scriptures]
JD: What would you like to see going forward with The Golden Plates? Are you planning on doing future editions? What would you need in order to make that happen?
AK: We would love to have the books be seen and read by as many people as possible. This will help it to accomplish the purpose for which it was created. As a secondary goal, we would love to create more books. Michael had originally planned to illustrate the entire Book of Mormon. He only made it through 27% of it before he had to return to his full time job to provide for his family. He has expressed a desire to do more, but it would have to make financial sense for him and his family. Most people aren't familiar with how much time it takes to create really good art. Those who have the level of skill necessary to do this type of work professionally, put hours and hours into their craft. It's not something you just whip out in a few days. This is part of why there hasn't been anything else like this created. In order for there to be more, there would either need to be a lot of books sold, or a few wealthy individuals who would be willing to fund the project.
JD: In what ways have you seen the hand of the Lord in this?
AK: I've seen the hand of the Lord from the beginning. Why did Michael step away from a 14-year career in comics to do this? He didn't do it for the money. He felt he needed to. It ended up almost being an "art mission" where he and his wife (who did all the coloring) paid their own way and gave their own time for a year. When I approached Michael about it last February, I felt impressed to try, even though he didn't know me from Adam.
The fact that he agreed was a small miracle to me. As I worked on the adaptation of the text I felt impressions and ideas about how to re-word things in a way beyond my own abilities. I originally had planned on just releasing it digitally because there was no budget for new print runs. The fact that a service exists where it can be printed without large up-front print costs has allowed it to be available in print again, which seems to be preferred since we've sold far more print copies than digital copies since the release. When I pick up a copy and flip through the pages I feel pleased that I've been a part of this, and that it's done respectfully, artistically, and doctrinally correct. I see the Lord's hand in it.
The Golden Plates comes highly recommended for families, those seeking to build testimony, or anyone who appreciates great pop art. For more information (and to purchase) please visit www.LDSComicbooks.com.
The following two tabs change content below.
Latest posts by Jonathan Decker (see all)