On Saturday, Elder Neil L. Andersen published a note about the story behind the determination of Elder Hales wearing his Black Necktie with White Polka Dots on General Conference.
According to Elder Andersen the story began in the April 2010 General conference, when Elder Hales stood up to speak to the Latter-day Saints. The five year old boy named Jason, jumped with excitement when he saw Elder Hales wearing the same neck tie he had in his closet.
"He ran to his closet, had his mother quickly help him tie it, and posed for a picture with Elder Hales on the television," said Elder Andersen in his note.
The child waited for the next General Conference. When the time for Elder Hales to speak, he again saw the same tie. With excitement Jason wore the tie while watching him.
He again waited for the next conference. With mixed emotions the child watched the broadcast again. But the apostle did not speak. To cheer him up, Jason wrote a letter where photos of the two of them wearing the same tie were attached.
In response to Jason's letter, Elder Hales wrote Jason saying:
Thank you for the letter and for the picture of the both of us wearing our general conference ties. I wore that tie just for you It is fun to have a tie buddy.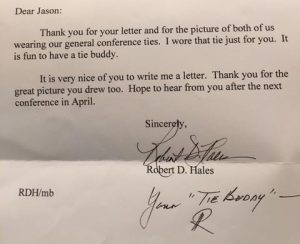 Elder Hales also used Jason in his conference talk on October 2013 about the importance of putting on the whole armor of God. In 2013 Jason finally met the apostle.
"This solidified the friendship—and Elder Hales' decision to wear his black tie with white polka dots for all future talks in general conference," said Elder Andersen.
Elder Hales have also promised Jason to give his necktie in his final talk in General Conference. According to Elder Andersen, he told Jason that he expect him to wear the tie when he speaks at the sacrament before leaving on his mission in 2023.
On Thursday evening, as Kathy and I and the General Authorities lined up to express our condolences to Sister Mary Hales, she too was thinking of others. She asked, "Elder Andersen, I have a box at home holding a very special tie. Could you help me get it to Jason?" Elder Andersen wrote at the end of his note.
The following two tabs change content below.
Josh Flores is a writer for Moroni Channel. He studies commercial law at De La Salle University and served his mission in Japan.
Latest posts by Josh Flores, Moroni Channel (see all)