The Church of Jesus Christ of Latter-day Saints claims that the accusations made by the Associated Press have significant flaws in its facts and timelines. The Church further stated that the news media conclusions are "erroneous". 
"We are puzzled as to why or how a media source as respected as the Associated Press would make such egregious errors in reporting and editing," the church statement reads.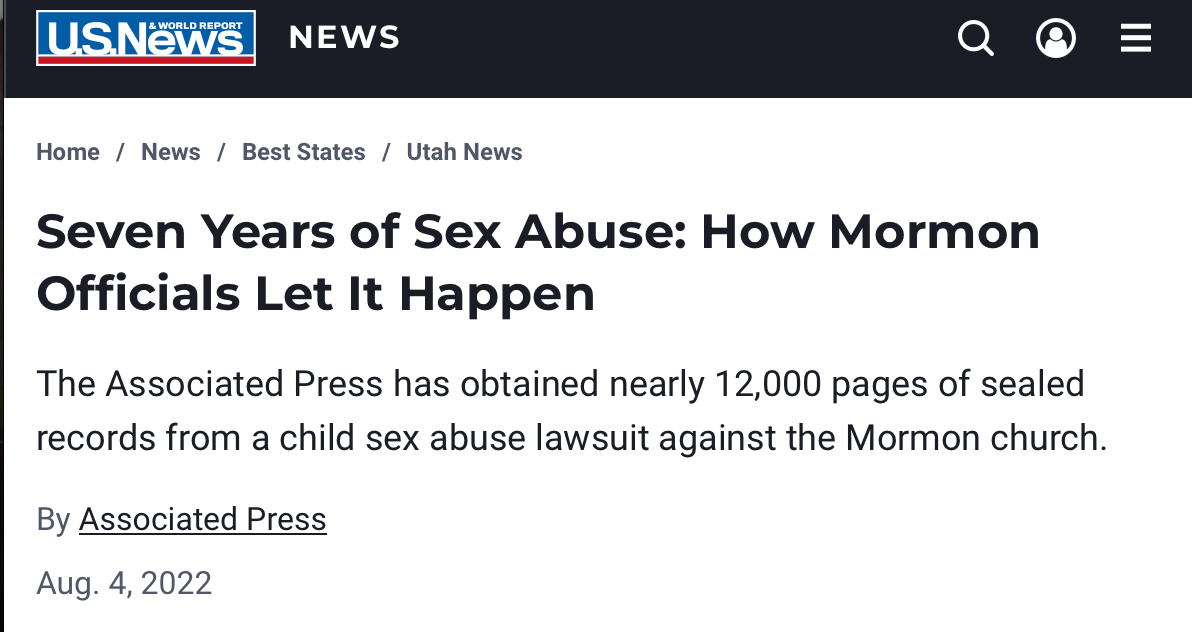 The Church provided the facts and correct timeline contained in public filings. 
In late 2011, Paul Adams made a limited confession to his bishop about a single past incident of abuse of one child. The bishop then called the helpline, where he was advised about how to fully comply with Arizona's reporting laws. In compliance with that counsel, from that time forward, the bishop repeatedly tried to intervene and encourage reporting, including by:

counseling Paul Adams to repent and seek professional help

asking Paul Adams to report (he refused and also refused to give permission to the bishop to make the report)

encouraging Paul Adams's wife, Leizza, to report (she refused and later served time in prison for her role)

encouraging Paul Adams to move out of the home (which he did temporarily)

urging Leizza to seek professional counseling for Paul and their children, which would trigger a mandatory report (they refused)

In 2013, Adams was excommunicated for his behavior and lost his membership in the Church.

Prior to and after his limited confession, Paul rarely attended Church or talked to leaders.

It wasn't until 2017, nearly four years later, that Church leaders learned from media reports the extent of the abuse, that the abuse had continued and that it involved a second victim born after Paul's ex-communication.
The Church claims that the AP article ignores these important timelines and sequence of events and implies that all these facts were known by a bishop as early as 2011. 
The Church reiterated in its new statement that the Church's abuse helpline protects children and has nothing to do with a cover-up.
The purpose of it is to (1) comply with the various laws of child abuse reporting; (2) Encourage victims and people involved to seek professional counseling; (3) Directly report the abuse to authorities, regardless of legal exemptions.
The Church was recently accused of hiding sexual abuse reports from authorities to protect itself from potential legal cases. The Church has since denied all claims. 
The following two tabs change content below.
Moroni Channel News is the news division of Moroni Channel that features breaking stories and information that matters to you most.
Latest posts by Moroni Channel News (see all)